ROCK WARS IV: A NEW ROPE! USA CLIMBING COMPETITION
Earth Treks is thrilled to host Rock Wars IV: A New Rope! This USA Climbing Youth Sport Local Competition is April 21, 2018 at Earth Treks Columbia.
REMEMBER, EVERYONE entering the facility on Saturday, whether competing or just watching, must have a completed waiver on file! Please complete the waiver online before coming to the gym on Saturday, it will speed up the whole check in process! FULL WAIVER HERE

LOCATION
Earth Treks – Columbia, Maryland
Click here for directions

FORMAT
Red point with two sessions for climbing. All USA Climbing age categories are welcome in each group, and each group gets three hours of climb time.

REGISTRATION
Registration is full! If you weren't able to register, please call Columbia to be added to the waitlist (410) 872-0060.

COST
$40 for the competition
$10 for the USA Climbing Day pass if you are not a USA Climbing member - paid directly to USA Climbing starting Monday April 16th but before the comp starts at 8am on Saturday April 21.
COMPETITION T-SHIRT
Thanks to everyone who ordered a shirt, you'll be able to pick up your shirt at check-in. If you missed ordering, you can still sign up to volunteer!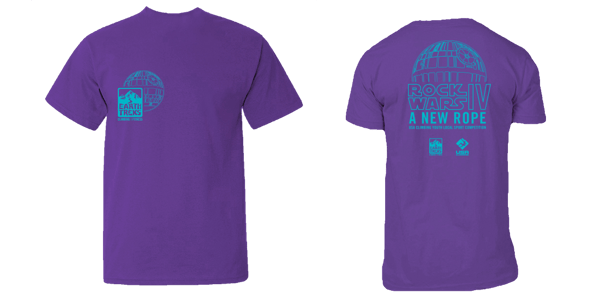 VOLUNTEERS
We need you to make this event a success! Our volunteers help ensure the comp runs smoothly and that the kids have fun. No experience necessary for judging or check-in. Successful completion of a top rope or lead belay check at Earth Treks is required for those positions.

PLEASE SIGN UP TO VOLUNTEER TODAY!
Volunteers, as a thank you for their time receive a free comp shirt, breakfast and/or lunch and a 15% off coupon for Earth Treks retail store!

FINAL TIMELINE
7:00am - check in begins for Group 1
7:30am - competitors meeting for Group 1
8:00am - climbing begins for Group 1
10:00am - check in begins for Group 2
10:30am - competitors meeting for Group 2
11:00am - climbing ends for Group 1
11:00am - climbing begins for Group 2
2:00pm - climbing ends for Group 2
2:30pm - awards for both Groups
There will be a single awards time, even with two sessions, as the sessions are part of the same competition. We are running two sessions to accommodate more competitors and to make scheduling easier for families with youth in multiple categories or those traveling from further in our Region. We appreciate your understanding and hope you can either stay for awards or have a friend/teammate pick up ribbons.

SPECTATORS
Only competitors, volunteers and staff will be allowed on the padded sections of the floor during the competition. All spectators will be asked to remain on the concrete walkways or in designated spectating areas within the gym.

We will be asking anyone in the gym to have a full waiver on file Saturday. Please make sure to check at the front desk when you come in the gym to complete a waiver, or you can do so in advance by following the link below.

FULL WAIVER HERE


USA CLIMBING DAY-MEMBER PASS
For the athlete that's new to competition climbing, a $10 Day-member pass will allow you to compete in a USA Climbing sanctioned local competition and be placed amongst the other competitors in your category at the event.

All competitors that do not register for an annual membership prior to attending a competition will be subject to the $10 Day-member fee. The fees paid for Day-member passes will not be applied or credited toward any other type of USAC membership. A Day-member pass is valid for one event, so you can purchase it the week before the competition.

Athletes that compete as a Day-member will not be eligible to advance to Regionals. If a Youth or Collegiate competitor wishes to be eligible to compete in Regionals, he/she will need to purchase the respective USA Climbing Membership prior to the close of Regional registration in order for the locals he/she competed in as a Day-member to count toward the competitors Regional eligibility.

Day-Member passes can be purchased by going to USA Climbing's website clicking the "Join Now" button in the top right corner, creating an account if you do not already have one and selecting the $10 Day-Membership.

We ask that you complete USA Climbing's requirements and pay their day fee before arriving at the gym for the comp.