YOUTH BOULDERING CAPITAL REGION CHAMPIONSHIP
Earth Treks Rockville is thrilled to host the USA Climbing Youth Bouldering Capital Region Championship on Saturday, December 9, 2017!
The Competition is still on for tomorrow, even with the predicted snow! Check out USA Climbing's official inclement weather policy (listed at the bottom of this post), but again, we are still on for tomorrow!
Very important: If you are worried about the road conditions and your child is in the 2nd or 3rd Iso Wave, you can bring them, and check them into Iso earlier than their scheduled time - it would mean a longer wait for them in Iso, but there is that option.

Preliminary Running Order posted HERE
Posted 12/6/2017, but potential for changes, please keep checking back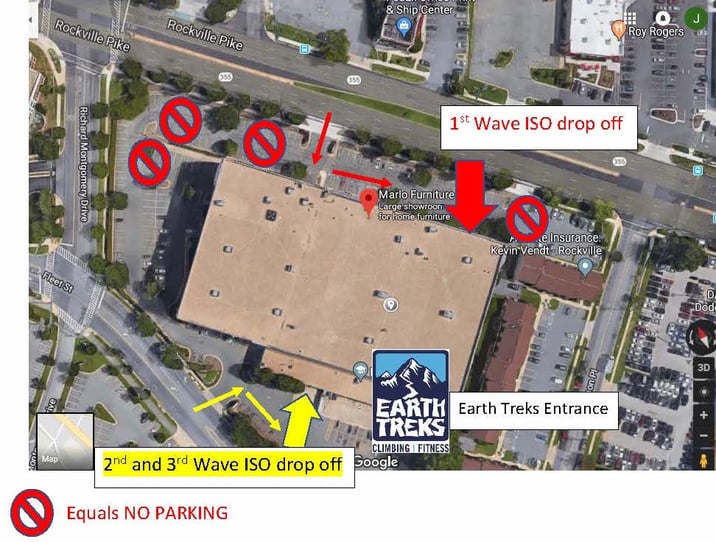 *Check in for the AM session of ISO will be at an access door at the front of the Marlo building. We will have staff directing traffic. **Check in for the PM session of ISO will be at the fire exit door to the left of the main Earth Treks entrance, which goes to the Yoga studio: there will be signage.
Competitor's Briefing Information

Location:
Earth Treks –Rockville, Maryland
Click here for directions

Format:
Single round on-sight bouldering competition. New zone scoring! 4 minutes per problem, 30 second tranisition time, 4 minutes rest.
Preliminary Timeline - subject to change. Updated 12/8/2017
MORNING
7:30am WAVE 1 ISO OPENS - MYB, FJR/FYA, MYD/FYD and Coaches for Wave 1*
8:30am WAVE 1 ISO CLOSES - MYB, FJR/FYA, MYD/FYD and Coaches for Wave 1*
8:30am COMPETITORS MTG
*Once Coaches leave Wave 1 ISO, they cannot enter ISO again until the afternoon ISO check-in for Coaches
9am MYB, FJR, MYD climbing begins – FYA and FYD will start when FJR and MYD wrap up
AFTERNOON
11:42am WAVE 2 ISO OPENS - MJR, FYB, MYC and Coaches for Waves 2 and 3**
12:42pm WAVE 2 ISO CLOSES - MJR, FYB, MYC and Coaches for Waves 2 and 3**
12:42pm COMPETITORS MTG
1:12pm (approximately) MJR, FYB, MYC climbing begins
1:16pm WAVE 3 ISO OPENS - MYA and FYC**
2:16pm WAVE 3 ISO CLOSES - MYA and FYC**
2:16pm COMPETITORS MTG
2:33pm (approximately) FYC climbing begins
2:51pm (approximately) MYA climbing begins
**Coaches must check in during Wave 2 ISO check-in.
6:00pm (approximately) climbing wraps
6:30pm AWARDS
**Please note drop off for Isolation for the morning session will be at the front of the Marlo building. Drop off for Isolation for the afternoon sessions will be near, but not at the main entrance to Earth Treks. We will have staff helping direct traffic and we will post more info about iso times, etc as we get closer.
Due to increasing numbers of competitors, we anticipate Iso wait times will be long! Please come prepared with food, water and activities (no wifi enabled devices are allowed in Iso).
Spectators:
Only competitors, volunteers and staff will be allowed on the padded sections of the floor during the competition. All spectators will be asked to remain on the concrete walkways within the gym.
We will be asking anyone in the gym to have either a full waiver on file or sign a "light" waiver Saturday. Please make sure to check at the front desk when you come in the gym to complete a waiver.
Parking:
Parking in Rockville can be a bit tight. There is our main lot which is available all day. The High School across the street has parking, but only until 12pm. Sandy Spring Bank lot is available after 12pm. There is also street parking on Fleet St and Mt. Vernon St. (along the side of the car dealership).
USA Climbing's Inclement Weather Policy:
Inclement Weather Official Response: USA Climbing will not make any decisions pertaining to inclement weather until after all Bouldering Youth Regional Championships have concluded. We strongly encourage competitors and their families to be aware of the weather forecast in their area and in the area of their Home Regional Championship and plan accordingly, however we DO NOT encourage any competitors or their families to put themselves in imminent danger in order to attend a USA Climbing sanctioned competition this weekend. If the weather prohibits a competitor from competing in the Bouldering Youth Regional Championships this weekend, the competitor should notify info@usaclimbing.org no later than Saturday, December 9th at 11:59pm MST. The email communication should contain the competitors first and last name, home region, full address, team affiliation and evidence of inclement weather preventing the athlete from attending the competition. USA Climbing will work with the Judicial Committee to determine the appropriate course of action, should weather in some parts of the country necessitate this.