GYM LINES LEAD TO UNCHARTED LINES - PAUL ROBINSON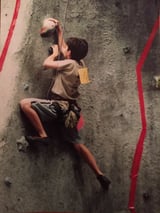 When I first started climbing, I didn't know anything outside of the gym. I was ten years old growing up in southern new jersey. I would go to the climbing gym on a near daily basis. When most of the routes in the gym became too easy, I would try to memorize them and do them blind folded. Thankfully, one of the employees of the gym noted my perseverance and saw some promise in me and invited my dad, brother, and I to go climbing outside. I was ecstatic! I knew nothing about any other form of climbing besides what I was doing in the gym. I was probably 11 years old and can still remember the day like it was yesterday. Since that day, I have made sure to share my climbing experience with others – whether indoors or outdoors - to show them the full spectrum of climbing and how amazing it can be to apply the skills acquired in the gym in a beautiful outdoor setting.
THE CLIMBING GYM AS A TOOL
As of lately, I have used the climbing gym as a completely different tool. Since weather is always so unpredictable. the gym is an amazing place to train. I have been using the gym to set myself simulators of climbs I am trying outside. this allows me to attempt movements that I would normally have to travel to try and now I can try them in the safety and comfort of the climbing gym. it has proven to be extremely beneficial and has let me send many of my projects quicker.
The gym is an amazing tool that allows you to get strong and prepare for any journey you could ever imagine. During the filming of my new documentary, Uncharted Lines, I trained in many climbing facilities including Earth Treks Timonium. There were months when I would be back home preparing for the next adventure and the gym was the perfect place to stay strong and fit and ready for wherever I was heading next. Each part of the film, I wanted to be as strong as possible – the gym was my reliable, safe go-to spot that helped me properly prepare, but beyond that, it was a place to feel welcomed, get inspired and hang with old friends.
Written by: Guest Blogger - Paul Robinson
Watch the trailer for Uncharted Lines.