I got lost comparing myself to other climbers. Here's how I stopped.
I've been climbing for 8 years and I know I've accomplished so much, but every now and then I can't help but compare myself to other climbers. Sometimes I look around and I get a little discouraged when I see other people, who've been climbing for much less time than me, working on climbs that I can't even touch.
But you know what? The first time I went climbing, I couldn't even get on the wall. I got in a harness, I tied in, and I tried to step on the wall. Wow—I couldn't do it! I didn't leave the ground.
My second time, I got off the ground (!!!), but got to the top of one extremely easy climb and was complete toast.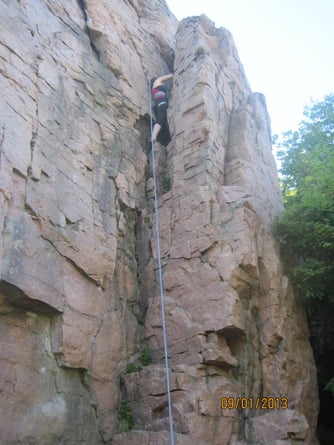 A few weeks into climbing, I went to Palisades in South Dakota. Getting to the base of the pillars and the start of the climbs required some scrambling that I didn't feel comfortable with so my climbing partners had to belay me up. I also was too nervous to repel off the side to get to one of the climbs. BUT I climbed one really easy climb that day and I was so proud.
Now? I go out and scramble on the same sort of rocks that I previously needed someone to belay me up. I've rappelled multiple times. I've climbed to the tallest walls in our gyms and a few 100+ footers outside.
Sometimes it seems like we're surrounded by people who are doing these amazing things—it can be pretty easy to forget our own accomplishments. But if you'd told me 8 years ago what I'd be climbing today, I would have laughed in disbelief! Incredible things have happened since I first pulled on my climbing shoes.
If you find yourself feeling discouraged comparing your progress to others, here are a few things to keep in mind:
Celebrate what you can do now. Remember your first time? You are likely much better than you were then. With climbing, there's always a new goal just around the corner, but try to pause every once in a while to appreciate how far you've come. Sometimes a shift in attitude and focusing on what you can do opens you up to what you hope to accomplish in the future.


Sometimes you may need a little push. It can be hard to judge what you need when you are on the wall. So start being proactive.


Video yourself on a route so you can see your moves and identify what you could improve. Or, try climbing with people who climb harder than you—they can encourage you to get on harder routes and also can give you great climbing tips!

Also our private coaches and classes are a great way to learn good habits and hone your skills.

Grades don't really matter. Different climbs will always have different challenges. You can get better at slopers but still, struggle with stemmy climbs. You do well on short climbs but struggle on long climbs. Ultimately, forget the grade—climb what challenges you in that specific moment in time.
And as a final note, the best climber is the one who's having the most fun, so climb on!
Kim is Marketing Manager extraordinaire for Movement.