I used to dread climbing approaches, but now I live for them (and some tips so you can too)
The climbing approach, the trail or walk in to the base of an outdoor rock climb, can be a weird concept for newer climbers who have learned in a gym setting. I've heard from some that it can be intimidating climbing outside the gym because there is so much more you need to know and it can take some time before you can get there. But approaching the crag is one of my favorite parts of any excursion.
Growing up I spent a lot of time outdoors and hiking with the Boy Scouts. There were so many different hikes and trips throughout Big Basin, Yosemite and a lot of Tuolumne. I saw the trail as my challenge and I took my time to enjoy what each trail had to offer--it was my prize.
Often we had a destination or peak we hiked to and we considered that a bonus, but it was the whole experience that I reveled in. The fresh air, wildlife, smell of the trees, all of it cumulated into this great adventure every time.
As soon as I began climbing, something changed. My goal became the topout, the send, the flash, whatever you prefer to call it, but my mindset shifted.
Now, I know that sounds almost sinister, as if I'm saying that 'climbing ruined my life', but it was quite the contrary. I found new adventures and discovered rock climbs and in places I had grown up in. It was a whole new world for me.
My new enthusiasm for rock climbing and focus on sending made me impatient with approaches. I became annoyed with the tedium of getting to what I saw as the prize. My frustration and impatience with the approach meant that when I arrived at the base of a climb, I was not calm nor in the right state of mind to sequence out my climbs. I was missing a crucial part of the experience.
I was learning so much about climbing and getting stronger, but I felt like there was something lacking. After some introspection, I realized that I was so focused on the end goal that I forgot to appreciate what got me to the climb in the first place.
It took some time and some good friends but I taught myself to slow down and take my time getting to these wonderful locations and challenging problems. Some of my favorite crags have been so memorable because of the approach to get there.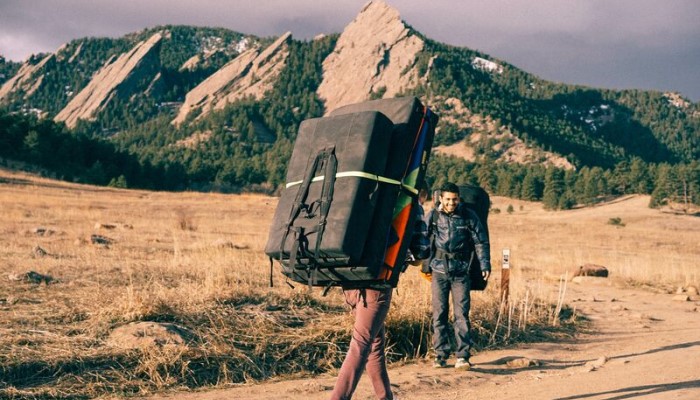 Over the past few months, I've spent quite a few weekends at Columbia State Historic Park. It has one of the most beautiful and fun approaches I have been on in a while. The part I enjoyed most was this one area, very aptly named the Labyrinth (picture related). Just looking through the guidebook with my friends, figuring out where the climb might be, and exploring this huge boulder field with them was such an adventure. Without that experience, the climbs wouldn't have been as fun as they were.
Even though I still think of the climb as the goal of my excursions, I try to keep in mind that the whole experience is what makes it memorable. Every weird rock, every dumb joke, every cool grotto just off the trail is what really can make every approach just as great as every climb.
Here are some suggestions to make your next approach a more enjoyable one:
Appreciate Where You Are

: No matter the difficulty or length of an approach or the weather, take a minute to look around once in a while. Enjoy the views. Appreciate the fact that your body is strong enough to carry you there.

Consider Your Clothing Choices

: Is it going to rain? Definitely bring your wet weather gear. Is the approach in the blazing sun? Try doing the approach in shorts and switching to pants once you get to the crag. Whatever the weather, wear breathable fabric that allows sweat to dry quickly and don't forget sun protection!

Are Your Shoes Made For Walking

: Many are just fine without approach shoes, but they do have benefits that can make you more sure footed on your next approach. Approach shoes have sticky rubber that makes climbing steeper, more technical terrain much easier. Hiking down steep, loose gravel trails is also more manageable.

Make Sure Your Climbing Pack Fits:

If your climbing pack feels 10lbs heavier than it actually is, you're going to feel miserable on the approach. The problem could be that your pack doesn't fit you correctly. Take some time to adjust and correctly position the shoulder straps and the waist belt. However, you might want to consider eventually getting fitted for a pack that best fits your frame and torso.
Read this next: Simple Breathing Tips That Will Change The Way You Climb